Wiltshire's Horse Works
We are a small, family-run harness-making business based in northern Victoria.
The idea was sparked in 1976 when Noel Wiltshire took on an apprenticeship as a harness-maker in the United States. He had grown up around horses in Nathalia, as his father had always had Clydesdales. The family had used the Clydesdale horses to farm the land in Undera.
When his father started breeding registered Clydesdales in 1966 Noel developed a passion for driving and riding them. He spent all his spare time listening and learning from the "old-timers" who had worked with team horses all their lives and, because of his passion they were keen to pass on their knowledge.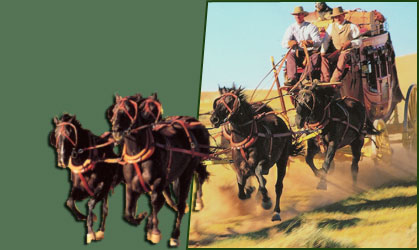 There were few saddlers or harness-makers left so Noel turned his hand to repairing and making what he needed to keep his father's horses going. In 1976 he went to Wyoming (US) to take on an apprenticeship at King's Saddlery where he learned the leather trade, spending time after with different saddlers to hone his skills.
In the 1980s there was a resurgence in draught horses in Australia, so Noel started making gear for his own 10-horse team. He made all his own equipment except for the collars, then started running teamster schools to teach people to drive pairs and teams of horses and provided mentoring to Terry Witts when he started his own harness business. On Terry's passing, Noel continued trading with his suppliers to maintain the service to local industry. That trade now includes sourcing equipment and product from around the globe to meet the needs of heavy horse owners across Australia.
Noel settled at Kotupna and set up a workshop and small harness shop, he travels between Australia and the US regularly, supplying harness and to work teams for movies.
Whilst Noel still travels annually to the USA to attend trade fairs, he ensures his skills and knowledge are readily available locally by attending shows, field days and conducting training weekends across Australia.
In recent years we have expanded into stocking packing gear, saddle blankets and other horse related products.
Noel says, "Despite our move to internet orders, please understand that Wiltshire's Horse Works remains an old-fashioned, down-to-earth, slow moving operation. Whilst we have a good stock of products in a variety of fields, hand made custom orders take more time".